So we know that you are here either to get some more knowledge on the tools available for SEO or you are just starting with learning SEO. We guarantee you that you are on the right blog and after reading you will definitely get something new and useful.
We have put together our favorite tools in this list so that you can use them to research your competitors, find lots of new keywords, optimize your site, and more! Some of the tools are paid tools and are well worth the money spent, but we also tried to include free or low-cost versions of each.
Before going directly on the tools for Search Engine Optimization(SEO), We will first divide the tools into different categories:
Keyword Research Tools
Website Analysis Tools
SEO Analytics & Tracking Tools
Local Specific Tools
Penalty Research Tools
Agency Building Tools
PPC Advertising Tools
Since describing all the tools into one blog will be difficult to go through so we will divide the tools into multiple blogs and will update it in all blogs related to Free SEO Tools. Today we will go through only the Keyword Research Tools.
Image Source: seerinteractive.com
SEMRush is a great website research tool. You can check search engine or PPC stats on any website, see your rankings or your competitors rankings. We love using it for keyword jacking. Here are 2 ways you can use this tool in just a few min:
1. Easy Wins Method: Put in your website URL. Under Organic Research on the left, click positions. See what you're ranking for on page 2, re-optimize your pages, or add links (internal or external) to boost your rank.
2. Keyword Jacking Method: Get your competitors domains and run a keyword report on them. Sort the report by kw volume, jack their keywords, and either add them to your existing pages or build out new pages.
Image Source: mangools.com
Quickest keyword tool ever! This will show you how tough the competition is for keyword (including TF & CF from Majestic), & Unique linking IPs for the top 10 results to give you a nice overview of what each SERP result looks like. You can use this in combination with all the keyword ideas you got from Semrush
Image Source: thehoth.com
This is basically a free version of SEMRush – Just put in a seed keyword and it will give you all kinds of variations as well as traffic, CPC, and more.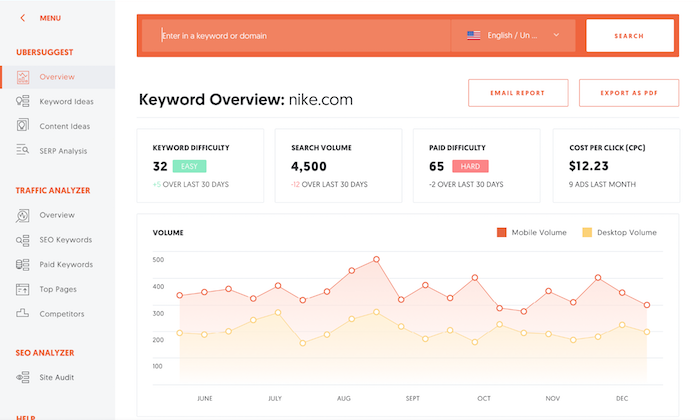 Image Source: neilpatel.com
If you are a newbie to SEO or an expert you must have heard about this tool, So this tool has to be on the list.
So when you go to Google and search a term, Google will often suggest variations to help you complete your search. This tool pulls in all the suggestions and finds related keywords as well. This is a great free tool for finding keyword ideas, volume, and more!
Image Source: ahrefs.com
The Ahrefs keyword explorer is great for keyword research. Since ahref's link database is arguably the largest, they have what I consider the most accurate keyword difficulty rating of all the tools. One of the best features of this keyword research tool is that it will tell you approximately how many links you'll need directly to a page to rank for more keywords.
This is another very popular tool but the difference here is you can actually get keywords for other major search engines like YouTube, Amazon and Ebay.
Featured Image Designed by upklyak / Freepik